Helen Storey took the last talk of the day. ' From Fashion to Science – Tales of Collaboration' Helens journey is interesting and quirky. The way she talks and thinks about things is very relaxed and open. Always ready for a challenge. Earlier in the year I attended her and Tony Ryan's Catalytic Clothing lecture at Edinburgh Science festival. It was great to hear more about this and her other projects successfully and beautifully bringing fashion and science together.
One of the first things she talked about was her initial idea of a bottle with a conscience, one that would dissolve when the bottle itself recognised it was no longer needed. I love the idea of an object like a bottle having a train of thought and almost having a kind of empathy. This project has resulted in a few different outcomes one being shampoo sachets that dissolve once used under a hot tap.
To relate this back to Fashion and create a conversation with the public, the idea of the dissolving dress came about.  As the fabric dissolves it creates many patterns and exciting developments along the way. Helen provided a live demonstration of the dissolvable fabric working. (photos at end) Helen explained that 'no one is scared of a frock' so the dress and clothing create a great interface to interact with the public. One of their first dresses called 'Herself' was put outside a pub in Sheffield and left with an explanation and a feedback blackboard. What a great way to see the public's reaction, and fuel their curiosity. The dissolvable clothing was beautifully captured by Nick Knight in his photographs and film.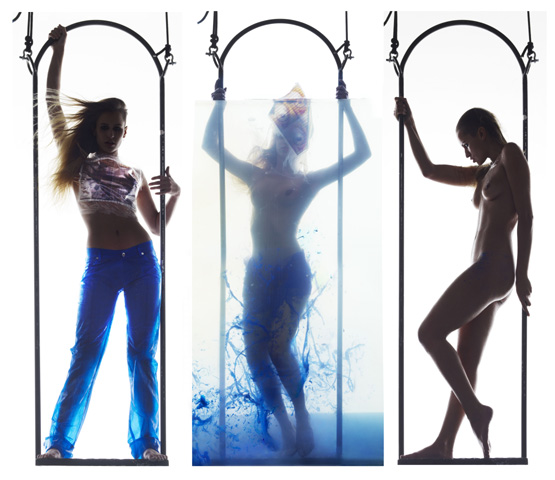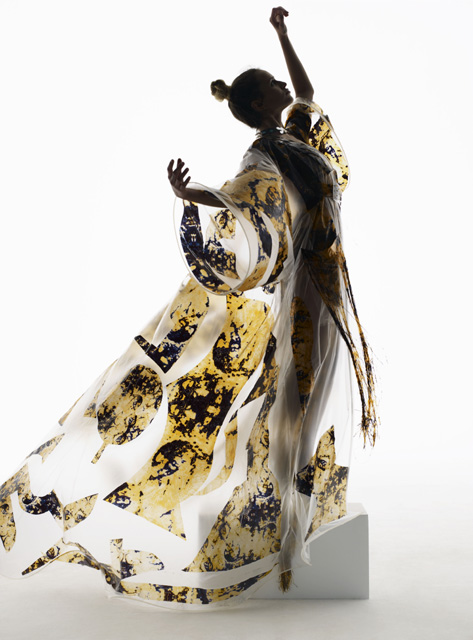 http://showstudio.com/project/wonderland#fashion_film - click here to see film and find out a bit more about the others involved.
Helen then went on to talk about her work with Tony Ryan on Catalytic Clothing. Catalytic clothing is such an interesting idea and one I would love to use when it's accesible. Again the ideas of a public interface and interaction is well considered. The viral video below captures imagination, curiosity and interaction.
For my next year project I am interested in bringing science (the way people think and learn), education and textiles together. Helens work gives a great idea of how beautiful this could be. Her talk illustrated how important the conversation with the public is. Her team have managed to do this slightly differently and get the public  interested and inspired. One of the interesting ideas was allowing people to ask any question on the catalytic clothing Facebook page. This now has a FAQ page with every question asked and an answer to each one. Click here to see this: FAQ I am also interested in collaborating with someone who knows more about the way we think to create something with meaning. The two tips Helen shared were
Be clear what you care about. Align it to what the world needs.
I can't wait to start my forth year journey trying to pursue this advice and find what it is I am interested in and how I can put more meaning in to my designing.
Her current project is looking at addiction and which bit of the brain deals with this. They are focusing on people addicted to designer shoes. Again bringing it back to fashion and relating with what is real life. I am very interested to find out more about this as I think it may help me develop my idea for 4th year and give me some insight in to how far you can push it.
At one point she talked about targeting 'human behavior as it exists' This is something I think I was already starting to consider for my projects but something I consciously want to think about for future ones.
In the question and answer session she talked about collaborations. I was interested in how she has made them work so successfully. She explained that she believes it is all down to the people. This is something I had been discussing earlier in the day, what makes or brakes collaboration? Is it the personalities and the way they work together?
Lots of things to think about. I will definitely try to contact Helen as I feel she may be able to help me find what would make a project meaningful, inspiring and worthwhile.
So thanks to DJCAD for putting on such great talks and the speakers for coming and sharing their knowledge and experience's with us. Another inspiring and mind boggling day at DJCAD!
Here are the photos of the dissolving fabric's:
Read more from Lucy Robertson at http://www.designmetheworld.wordpress.com